DOI
Copied to clipboard
https://doi.org/10.26300/bdp.ff.oosterhoff
Mathematics, in several of its Renaissance guises, lies in the background throughout Atalanta fugiens. In the preface, optics and music are among the "innumerable arts and sciences" the reader needs to search out God's hidden secrets.1 Explaining Emblem 1, "Wind carried him in his belly," Maier presents three examples of the mysterious "him": in arithmetic it is the cubed root; in music, the perfect fifth; and in astronomy it is the center of the planets Saturn, Mars, and Jupiter.2 Emblem 8 uses the common technique of a perspective tunnel to focus the image. As a whole, the book is held together by music, as Eric Bianchi shows. Any Renaissance reader would have found these allusions to perspective, astronomy, and music instantly recognizable as "applied" or mixed sciences, rooted in the theoretical knowledge of arithmetic and geometry.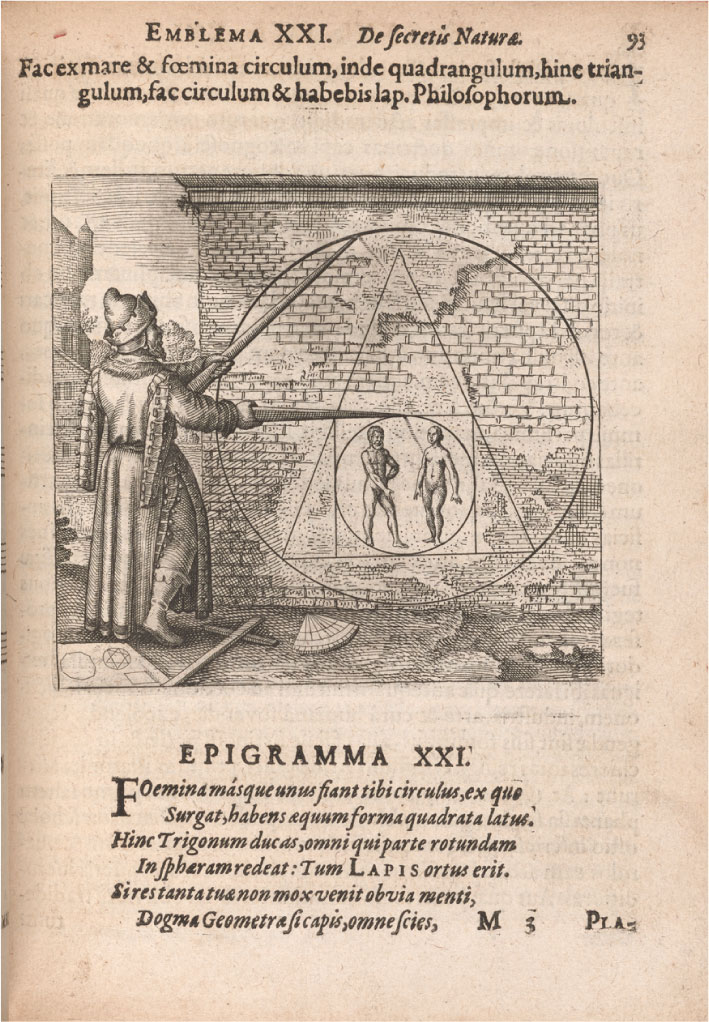 In Emblem 21 (fig. 1), mathematics moves into the foreground: "Make of the man and the woman a circle, of that a quadrangle, of this a triangle, of the same a circle, and you will have the Philosoph. Stone."3 The emblem itself comes from the influential Rosarium philosophorum (Rose garden of the philosophers; 1550), in the chapter on conception by the alchemical king and queen.4 In the Rosarium philosophorum, the emblem concludes a discussion of how substances mix and putrefy and their seeds begin to grow and transform: "Aristotle" presents the squaring of the circle to sum up the process known as conception. The dichotomy of male and female is a familiar piece in the metaphorical repertory of early modern alchemy.5 Indeed, Emblem 21 here evokes themes that permeate Atalanta fugiens — the first two emblems play upon the male and female elements of the philosophers' stone, its conception and generation, supplying the book with one of its governing metaphors. Nevertheless, Emblem 21 does not dwell on that rich dichotomy. Instead it spends most of its time on the ancient problem of squaring the circle. The epigram below the image underscores the explanatory power of mathematics, adding that "[i]f this [matter of conception] too high and too abstruse you find, / Geometry will soon inform your mind."6
Why should squaring the circle help understand nature's secrets, even the philosophers' stone? This essay takes up Maier's injunction to consider how geometrical learning might support the alchemist, as part of Maier's aim to present chymistry as serviceable to the state. By considering how Emblem 21 redeploys commonplaces about the famous mathematical problem, I wish to suggest the ambivalence of mathematics as an archetypic form of innate knowledge and how this ambivalence could fuel a growing, fertile tension between learned and artisanal forms of knowledge.