DOI
Copied to clipboard
https://doi.org/10.26300/bdp.ff.gaudio
Michael Maier's Atalanta fugiens (1618) offers a heady mix of arcane alchemical principles, humanist literary references, and contrapuntal fugues, but it is the volume's striking copperplate etchings that are most likely to retain a vivid presence in the reader's imagination long after the book is closed. Composed of elegantly rendered figural groups typically set within mountainous landscapes that sometimes make direct reference to the German lands in which the book was produced, the etchings offer visual interpretations of the cryptic mottos that accompany each of the volume's fifty emblems. The quality of these pictures, perhaps more than any other aspect of this notable publication, has secured its place of distinction in the alchemical literature of early modern Europe. While the figural compositions undoubtedly were influenced by Maier, who took inspiration from numerous textual and pictorial sources, the actual plates are the work of the de Bry book publishing firm in Oppenheim.1 It is appropriate to begin, therefore, with a consideration of this family's pictorial contribution to Atalanta fugiens.
In 1588, Theodor de Bry and his sons, Johann Theodor and Johann Israel, having fled the southern Netherlands as Calvinist exiles, arrived in the free imperial city of Frankfurt am Main, where they quickly established a reputation as engravers and publishers of high-quality illustrated books. The de Bry family was best known for its two series of illustrated travel accounts, the India occidentalis (West Indies; 1590–1634) and the India orientalis (East Indies; 1597–1628). In his engraved self-portrait of 1615, Johann Theodor, who oversaw these long-term projects after the deaths of his father and brother, stands proudly before two stacks of pages labeled with the titles of these collections (fig. 1). But the engraved plate that he props up with his left hand on top of the stacks, with its vanitas image and the motto "Quis Evadet" (Who will be spared?), highlights the emblematic publications that were also an important part of his firm's repertoire.2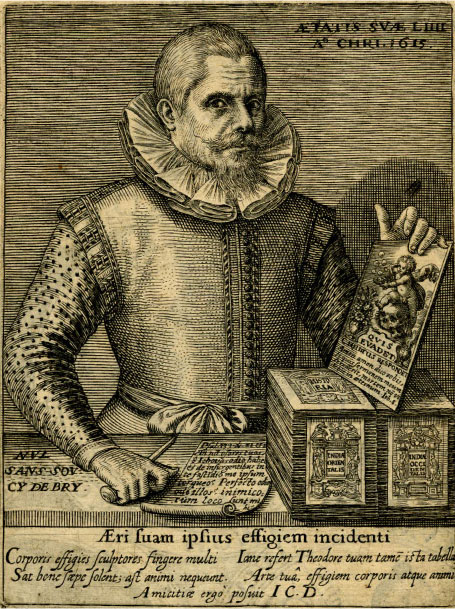 The alchemical emblems of Atalanta fugiens belong to a period of extraordinary productivity between 1609 and 1620 during which Johann Theodor relocated the firm to the Palatinate town of Oppenheim and published the profusely illustrated alchemical works of Maier and the English Hermetic philosopher Robert Fludd. Unlike Frankfurt, which showed wavering support for its community of Reformed exiles, the Calvinist state of the Palatinate under the Elector Palatine, Frederick V, provided a liberal religious and intellectual climate that promoted the publishing of works of alchemical and occult interest and, as Frances Yates has shown, allowed for the flourishing of a "Rosicrucian Enlightenment."3 Johann Theodor de Bry, a shrewd businessman, took advantage of these conditions until 1620, when the onset of the Thirty Years' War forced him to return to Frankfurt.4
During its busy years in Oppenheim, the de Bry firm was fortunate to add a talented and productive member to the family, Matthäus Merian, who in February 1617 married Johann Theodor's daughter Maria Magdalena de Bry. Merian was a native of Basel who learned the technique of etching during his apprenticeship in Zurich and refined his skills in Strasbourg, Nancy, and Paris before arriving in Oppenheim.5 Etching requires the artist to draw a design with a pointed stylus, or "needle," directly on a copper plate that has been covered with an acid-resistant ground. When the plate is then submerged in acid, the exposed lines are etched into the plate so they can hold ink for printing. Etching is the closest of the printmaking processes to pen-and-ink drawing and is carried out much more quickly than engraving, a laborious process in which the artist uses the palm of his hand to push the point of a burin — the tool held in Johann Theodor's left hand in his self-portrait — into the copperplate. As an etcher, Merian was better suited to meeting heavy demands for illustrations than was his father-in-law, to whom no known etchings have been attributed.6 Although no artist is named on the title page of Atalanta fugiens or on that of Fludd's magnum opus, the Utriusque cosmi [. . .] historia (History of the macrocosm and microcosm, 1617–21), we can safely attribute the etched plates in both publications to Merian.7
Merian not only brought expertise in etching to the de Bry firm; he brought expertise in landscape representation as well, and indeed his reputation as a printmaker rests largely on his views of European cities and their surroundings. Etching and landscape had been closely linked since both appeared on the scene during the first half of the sixteenth century. Some of the earliest German artists to develop the genre of independent landscape, including Albrecht Altdorfer and Augustin Hirschvogel, recognized the possibilities of the new printmaking process for translating their distinctive landscape drawing styles into a reproductive medium.8 And landscape remained an important subject for northern European etchers of the seventeenth century like Merian and his Dutch contemporary Claes Jansz. Visscher. On the contents page to Visscher's series of topographical landscapes, Pleasant Places (1611), an architectural frame surrounds an appealing view of a lighthouse in the dunes outside Haarlem. Before our eyes can take in this landscape, however, they are confronted with the etcher's needles, bottles of mordant, and copper plate, all of which rest on the sill of the frame (fig. 2).9 Etching, Visscher's print suggests, makes it possible to preserve the vividness of the artist's own direct experience of nature in a reproduction. An accomplished topographical etcher, Merian lavished an unusual attention on landscape in the emblems for Atalanta fugiens. Approaching these pictures through their landscapes can offer fresh insight into this artist's unique contribution to alchemical imagery.